By Mariela Santos-Muñiz
There are a variety of Latinx voices contributing to publishing and literary communities, and Cindy L. Rodriguez is one of them. A teacher, author, and former journalist, she's making a difference through the Latinxs in Kid Lit organization – more on that later.

 

Don't miss out and continue reading about her perspective, as a writing professional and insight into helping children learn.

 

Photo by Saryna A. Jones
Q: You are a Young Adult author. What has your literary journey been like so far?
A: My literary journey has been like a rollercoaster ride: sometimes exciting, sometimes scary, unpredictable, but so much fun in the end that I want to do it again and again. When my young adult novel, When Reason Breaks, was published in 2015, I had a one-book contract. I was busy working on other ideas, but I was also busy promoting When Reason Breaks, working full-time as a teacher, and raising a daughter on my own. Some of my writing peers were writing full-time and had two- or three-book contracts. For some, writing was their job. My job was—and still is—teaching, so writing is additional work that I love, but it isn't my main source of income. I want to explain all of this because, at the time, although I just had a book published, I also felt like I was floundering because others were jumping right into book #2 and I was starting from scratch again. I have since learned, and I hope new writers take my advice on this: do not compare yourself to others. Write at your own pace. Do not try to keep up with others by comparing your word count or number of books. Worry about yourself. Do what you can each day or week or month to move yourself closer to your goals. Today, I still teach full-time and write part-time. That's my reality. I may publish less often and end up with fewer books than others….and that is okay! This was a big lesson I had to learn after my debut. I have also expanded my writing horizons since my YA debut by writing picture books, a middle-grade novel, and passages for educational publishers on a work-for-hire basis.
Q: At which point did you decide to found the Latinxs in Kid Lit organization? And what was that process like?
A: It was early 2013. My debut was under contract, and I was getting more involved with the children's book community online. This was before the We Need Diverse Books campaign began, but people were already vocal about the lack of diversity in publishing. Many people would post comments like, "How do I even find diverse books? I don't know where to look or who to ask, other than my local librarian." At that point, a small group of us decided to start a blog that would explore and celebrate Latinx creators in children's literature so that parents, educators, and young readers had a resource when they were looking for book titles. I reached out to other Latinx creators, and we started brainstorming. Once we had a clear mission, we went live in September 2013.
Q: In case some readers of this article may not know, what does the Latinxs in Kid Lit team do currently?
A: Currently, we post once a week, sometimes twice if we have the content. Our posts include book reviews by Latinx librarians and academics, Q&As with authors and illustrators, guest posts by Latinx creators, book giveaways, and book cover reveals for new titles. Just recently, we have also started a monthly Book Club. We are selecting one title each month that will be discussed via Zoom. So far, both authors have been able to join us for the discussions, which is great!
Q: If you can share, what are the future plans for Latinxs in Kid Lit?
A: We plan to keep doing what we're doing, but we also want to find new ways to support Latinx creators. For example, we are supporting Las Musas with their virtual Latinx Book Festival, and we are supporting another group that is organizing a Latinx Pitch event on Twitter.
Q: As an author, what recommendations would you give to parents and teachers who are trying to encourage youngsters to read?
A: First, read to them early and often. As a teacher, I know all of the statistics say that kids who are ready to absorb an incredible number of words and start pre-school at a huge advantage over kids who are not read to by the adults in their lives.
Second, as kids get older, please let them have some say in what they read. Parents often ask me if audiobooks or graphic novels "count." YES! Let them read different genres and in different modes. Teachers will push students to challenge themselves while reading, so don't worry if your child seems stuck on a particular genre. Kids will likely read a variety of books in school, and since most of them will be assigned, please let them choose what interests them when they read for pleasure.
Third, encourage your child to read diversely. I know I just said, let them choose what they want, but as a parent and teacher, I apply diversity to what interests the reader. For example, if a child says he likes fantasy, then I recommend a fantasy book with BIPOC main characters. If a student says she is interested in realistic fiction, I recommend a contemporary story with BIPOC main characters…and so on. The books are out there. Find them and recommend them all year long, not only "special month," like Black History Month.
Q: What recommendations would you give regarding Latinx representation in children's books?
A: I read mostly middle grade and young adult; the books I have read most recently are all excellent. They are: What Lane? by Torrey Maldonado. This is a middle-grade novel about a bi-racial boy who is starting to really see and understand that he is treated differently than his white friends because of his race. The next is We Are Not From Here by Jenny Torres Sanchez, a young adult novel that sucked me in on page one and alternately broke my heart and filled me with joy throughout the rest of the story. It is about three teens from Guatemala who travel on La Bestia through Mexico with the hope of crossing into the United States. The third is Efrén Divided by Ernesto Cisneros. This one is a middle-grade novel about a boy whose mother is deported to Mexico. Efrén must now care for his two younger siblings while trying to maintain his grades and social life at school. On the lighter side, I am a huge fan of the Love, Sugar, Magic series by Anna Meriano. The series is about a family of brujas and centers on the youngest daughter, who, in the first novel, tries to figure out if she can do magic like her sisters. The series is about family, friends, growing up, and, of course, magic—which doesn't always go as expected.
Q: To conclude, is there anything else that you'd like to mention before ending the interview?
A: Thank you so much for asking me to participate in this Q&A. I am always happy to talk about great books by Latinx creators. The books are out there, so please look for them, read them, and share them with others!
-----------------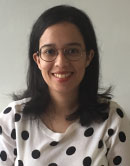 Author Bio: 
Mariela Santos-Muñiz is a freelance journalist and writer, currently based in Puerto Rico. Bilingual in English and Spanish, her written work has appeared in Nylon, The Daily Dot, Book Riot, Bustle, and more. Santos-Muñiz is an alum of Boston University, with an M.A. in International Relations and International Communications. Follow her on Twitter @mellamomariela or find her at marielasantosmuniz.squarespace.com.