By Mariela Santos-Muñiz
What's it like to be a Latinx author writing children's books? Every author's journey is unique, although many do share similarities. Here is 

Celia C. Pérez's

 

perspective. 

 

 

Pérez is a librarian and an award-winning author of children's books; so far, her published books are The First Rule of Punk and Strange Birds. In this interview, she spoke about how she started reading, what her journey as an author has been like so far, and more. 

                     Photo by Celia C. Pérez
Q: When and how did reading become part of your life? And what stories were you drawn to at that point?
A: I don't have memories of being read to, at school or home, but I do remember always loving books and finding comfort in reading. I loved Greek mythology and stories of the supernatural and fairytales. We didn't have many books at home because my parents couldn't afford the extra expense, but we had an old set of encyclopedias and I would read the entries about the Greek gods and goddesses and entries on fairytale creatures. My earliest memories of reading are of these types of fantasy stories. 
Q: If you read books as a child, which ones were your favorites, and why?
A: I was probably in about the fifth grade when I got my first library card and this was a game-changer for me because it opened up access and options. I loved books about witches and ghosts. Some of my favorites were The Witch of Blackbird Pond by Elizabeth George Speare, Witch's Sister by Phyllis Reynolds Naylor, The Ghost Next Door by Wylly Folk St. John, The Dollhouse Murders by Betty Ren Wright. I read a lot of mysteries too including the Encyclopedia Brown books. I enjoyed trying to figure out the puzzle and being spooked. I also enjoyed the Mrs. Piggle-Wiggle books and the Amelia Bedelia stories. Some of my favorites were books by Beverly Cleary and Judy Blume. As I got older, I think I was drawn to the more realistic stories of characters trying to work through conflict and challenges.
Q: What's it been like for you to be a children's book author?
A: I feel really fortunate to be able to write and publish books for young readers and to find my place in this world that meant so much to me as a child. Being a published author has been an opportunity to work toward filling in some of the gaps that existed for me as a young reader. Growing up in the 1980s, there really weren't many books for children that featured non-white protagonists, and especially not Latinx protagonists. It's an honor to be able to contribute to creating a wider representation of stories and characters in children's books. I try to create stories that show a variety of characters and a range of experiences, that show Latinx kids having fun, being outspoken, being creative.
Q: Now as an adult and children's book author, do you pull any inspiration from books you read as a younger reader? If so, what's that process like?
A: I don't think I pull creative inspiration from books I read as a child, but I am inspired by what books meant to me at a young age. As a child of immigrants and as someone who grew up poor, books were the way in which I was able to have experiences and be exposed to things that I might not have otherwise. Books allowed me to travel and challenged me. They were educational, but also entertaining. They offered a way to connect and also to escape. When I write, I hope that in my stories and characters I am creating the same kinds of experiences for readers. 
Q: Is there something that you would like the young readers of your books, to take away from them? What is it and why?
A: I tend to gravitate toward writing stories about misfits and about kids grappling with finding their voice. As a young person, I often felt powerless and that writing was the way in which I had a voice. I hope that readers find comfort and joy in my stories and that they leave my books thinking about their own power and place in the world.
Q: Is there anything else that you would like to add? 
A: I love that we are living in a time when there's a greater variety in the types of stories being created and in the kinds of formats and genres available to young readers. I think this makes it more likely that each reader will find the book that imprints itself in their life. I believe that books and stories can change us. I know they were some of the greatest influences in my childhood, and I don't know if my life would have taken the path it took if not for books and stories. 
-----------------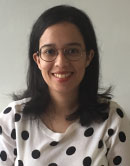 Author Bio: 
Mariela Santos-Muñiz is a freelance journalist and writer, currently based in Puerto Rico. Bilingual in English and Spanish, her written work has appeared in Nylon, The Daily Dot, Book Riot, Bustle, and more. Santos-Muñiz is an alum of Boston University, with an M.A. in International Relations and International Communications. Follow her on Twitter @mellamomariela or find her at marielasantosmuniz.squarespace.com.