By Mariela Santos-Muñiz
Meet Ana Siqueira, a Spanish teacher and author of children's books, that has loved reading since she was a young child. Ana has several books in the works, and "one of Ana's manuscript went through auction."

Don't miss out and continue reading about her perspective, as a writing and educational professional. 

This interview has been condensed and edited for clarity. 

 

                      Photo by Neusa Emiliano
Q: So, my first question is how did you start writing children's books? What was that process like for you? 
A: I'm from Brazil, so in Brazil I wrote some books in '91, '92. I got some books published, I even got an award from what they call Academia Brasileira de Letras, it's a very prestigious place there in Brazil for writers and scholars. Then I came to this country in '92 and I stopped writing because I started working like crazy and I didn't have time. I had my young kids, so I stopped writing and I re-started writing because I teach Spanish to the kids. I started doing my own stories to teach Spanish, because I teach Spanish through stories, through books, and my own stories and some other people's resources. So, I started writing this story and it was the first one that I wrote, El Pato Quiere Uvas - the one that is for the educational market.  I did that one because I saw that video, the duck song.
The duck song is a very popular video and the kids from my school …  asked me, because I would do all crazy stories with them, they asked me, can you do a story about the duck song in Spanish? So, I did a story about the duck song in Spanish, and I decided to try to see if I can publish that one. I contact Teacher's Discovery …. they send educational catalogs to teachers, basically they are world language or social studies, so they have books in those two. I talked to them and they said "yeah, we want to publish it" and they published this one, that was maybe July last year. I wrote [it] maybe January, I sent to them in February, they said okay. It was really fast, so then I decided to start writing again for kids. I said, "oh, I love writing, so instead of just writing in Spanish, I will also write like as a picture book." 
I'm always telling stories for my grandkids. My family is Cuban-Brazilian-American, so we are all mixed.  I started basically, maybe December of 2018, that's when I re-started writing and I did a lot of webinars. I really got into reading a lot of books, and I contact a lot of writers, and I did my critique groups but the main one I call "las chicas Latinas," and they really helped me a lot. 
I got a like in one of those pitch events on Twitter called PitMad. I submit them the story in October and the funny thing was the day my Mom died - my Mom died October 22nd - and right before I went to the hospital, she was in Brazil. I said this story is ready, I will submit it, so I totally believe my Mom helped me with this story. So, I sent this story and in November they made me an offer for the book, and so it was all very fast for writing.  I write in January and in November I had my first offer, and I got my agent and now I have another book but I cannot announce yet.  I'm in the process of maybe selling a third one. So yes, so basically that's how everything started, but I think like my main inspiration has always been my kids. When I was in Brazil, my kids were really young, then my grandkids. 
Q: When you were a young reader, did you have a favorite book? And is that part of your inspiration now? Do you look back on books that, that you loved before?
A: The funny thing is that I write mostly humor books, but when I was young, I loved very, very sad books. They are all about kids and they suffer a lot, they were orphans, they went through a lot of things. I don't know my favorite books … very serious and sad books. My books, I try to make it funny and light. I have one book about grieving, one story that I wrote after my Mom, but most of my books I try to make it very light and funny, even if I'm talking about some kind of hard topic. I read a lot, I think that of course helps me, I always read a lot when I was a little kid.  
I love reading, yeah. 
Q: And so, has your taste in books evolved over time? Do you still like to read kind of sad stories? Or has that changed?
A: I love reading books, I just read one that was so amazing, I keep forgetting the name. A kid, special kids, I love reading books with special kids. Of course, most of the time they will struggle but they will overcome their challenges, so that's for me, those are the kinds of books I like to read, I still like to read books with kids and special kids, kids with autism or parents. I read one that the Mom wrote about her raising a kid with autism. Books now, I just read one, Efrén Divided by Ernest Cisneros, also of course it's a boy and his Mom gets deported, so I still like to read things with a lot of struggle. 
And my stories tend to have a lot of, even though it's not sad and I try to make humor, I think they always have a lot of struggle. They will have some kind of struggle, it's not a quiet book. 
Q: Is that the message that you want young readers to get from your writing? That there are struggles and they can overcome?
A: I think so, most of my books will have some kind of message even though I'm not trying to preach or anything.  Like my first one, Bella's Recipe for Disaster/Success, it is about a girl who first wants to quit everything because she's not the best, and then she will learn that for you to do something, you have to try, make mistakes, and try again. And so, it is kind of her struggles, quitting and she learns that quitting is not the solution for her to be the best or good at anything.  
-----------------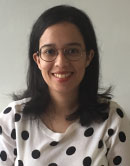 Author Bio: 
Mariela Santos-Muñiz is a freelance journalist and writer, currently based in Puerto Rico. Bilingual in English and Spanish, her written work has appeared in Nylon, The Daily Dot, Book Riot, Bustle, and more. Santos-Muñiz is an alum of Boston University, with an M.A. in International Relations and International Communications. Follow her on Twitter @mellamomariela or find her at marielasantosmuniz.squarespace.com.