by Claudia Generaux
Hello Everyone! Here at Becko Books, we are starting this new section of our blog called Teacher's Corner. Teacher's Corner will highlight the work of different dual language teachers who put their heart and soul into their work with the goal of transmitting second language literacy to children.

Becko Books has the same mission as these teachers, which is to help parents raise bilingual kids. Through these interviews, we hope parents learn about these educators and their approach to teaching in a dual language classroom.

We are excited to begin our first interview with Laura Pantin, a Venezuelan-born Kindergarten teacher, that is killing it in the classroom and the social media world with her awesome Spanish digital resources for both parents and teachers alike. Enjoy the interview!
Briefly tell us about yourself and what led you to become a dual-language teacher?
My name is Laura Pantin and I was born in Venezuela. My family and I migrated to the United States when I was 6 years old, where I was put into first grade and into an ESL (English as a Second Language) pull-out program. This meant that I would be taken out of my classroom and brought to another classroom full of students who spoke other languages than English.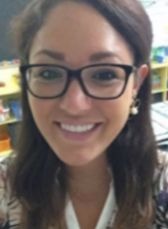 At one point in the school year, my principal called my parents and told them they should speak to my sister and me in English at home so we would learn the language faster. To this, my mother responded that they had not moved to the US for us to lose our native language, but rather, to gain another language and avenue of opportunity.
Although I learned English in about 6 months (to native-like first-grade fluency) during my ESL program, I always felt isolated and distanced from my peers in my classroom.
It was a rough transition. This always stuck with me. I studied education in my undergraduate career and during this time I found this area of bilingual education and specifically dual language education. I was intrigued and it felt as though this was what I needed to study and the field I need to work in. Therefore, I applied to the Master of Arts program at Teachers College Columbia University and was accepted. During this time my passion and love for dual language education blossomed and it is now my mission to continue to advocate for dual language children and contribute to this field both as a teacher and as an advocate of authentic dual language education.
What grades do you teach?
I currently teach Kindergarten dual language.
Why do you think it is important for kids to be bilingual?
I think that it is extremely important for kids to be bilingual in our society. In most other countries, people are multilingual. In our global society, it is crucial for students to learn another language because it not only opens more opportunities, but it also helps with cultural understanding and cognitive advantages. Bilingualism helps with personal connections, relationships, cultural understanding and professionally to advance someone's career. I believe bilingual education should be offered and available in every school across the nation.
What do you think is the role of literature in learning to read?
Literature is an essential component of learning to read. From the very beginning, exposing children to books is critical in helping shape their minds and find their interests. Literature is an avenue that opens up conversations, ideas and worlds that may be beyond what children have experienced or contexts that children can relate to. Therefore, literature is all about making connections, which is an extremely important cognitive ability.
How do you implement reading inside your classroom?
One of the main things I do is that I set up a large classroom library with as many of the Spanish books that I can find that are of varying topics and levels for my students. I try to stay updated on new book releases so that my children feel that there are just as many Spanish books out there as English books for them to read. I also display some of my kids favorite series, such as Peppa Pig, El Chavo and Hombre Mosca with an accompanying character stuffed animal, which they love to read with.
In terms of instruction, I plan daily read-alouds and focus each read-aloud on a specific comprehension skill, that gets progressively more in-depth as the year goes on. I also incorporate specific reading skills during our guided reading time, which is where I teach skills to a specific group of students that is on their level. Basically, our day is filled with reading activities to promote skills and heighten their interest in reading!
How would you advise that parents of bilingual children incorporate reading outside the classroom?
I would advise that parents try to keep exposing their children to Spanish (or bilingual) books from their public library or any local bookstore in their community. Even just sifting through the books and having your child get exposure is helpful. There are also some resources like this one beckobooks.com (beckobooks.com), which offer a subscription fee and has a wide selection of Spanish books. It's important to stay proactive in finding resources in your community that can allow you to best support your children's bilingual journey!
What is the most rewarding and challenging part of your job?
The most rewarding part of my job is seeing the growth that occurs and the love of Spanish learning that emerges throughout the year. So many of my children are so enthusiastic and open to learning Spanish that it really is beautiful to witness and be a part of. The most challenging part of the job I think is having such a wide range of language abilities in the classroom. Our program is a 50/50 two-way dual language program, which means about half of my students are native English speakers and about half are native Spanish speakers, so having native English speakers is a challenge because they come to me with no Spanish knowledge and I only speak to them in Spanish.
What do you feel it is important for parents to know when trying to raise bilingual kids?
I think it's important for parents to understand that research shows that language learning takes five to seven years, and therefore is a long process that needs a lot of support and patience. I also think it's important for parents to understand the second language acquisition stages so they are aware that children may speak/verbalize at different times, just as a newborn baby. These are the stages:
Pre-production (0-6 months) - Non-verbal, draws, points
Early pre-production (6 months to 1 year) -Limited comprehension, 1-2 word sentences
Speech emergence (1 to 3 years) - Simple sentences, good comprehension, grammar errors
Intermediate fluency (3 to 5 years) - Excellent comprehension, few grammatical errors
Advanced fluency (5 to 7 years) -Native level of bilingualism in comprehension, speaking, reading and writing
Are there any misconceptions that parents tend to have about bilingualism?
There certainly are misconceptions that parents tend to have about bilingualism. Many parents think being bilingual or having children in a bilingual program is "gifted" or a "gifted program". While becoming bilingual is rigorous and requires dedication and passion, it is not a "gifted" program or for "gifted" children. Any child can become bilingual with the right structure and support.
Other misconceptions that parents tend to have about bilingualism is that they don't understand why they ask their child to speak the second language in front of them after a couple months of beginning to learn the language and why they won't speak. This is why knowing the stages of second language acquisition is so important – we cannot force our children to speak in a manner that they may not feel comfortable with yet.
To finish our interview, could you tell us about the digital resources that you create for parents and educators to support bilingualism?
I currently create and sell Spanish educational resources through an online platform called "TeachersPayTeachers". My store name is: Learning Bilingually . I create curriculum guides, games, units, syllabic resources and anything that I have found in my professional experience to be useful and helpful for children learning a second language (the target language being Spanish). I also have an Instagram account (Learning Bilingually (mailto:@learningbilingually)) where I showcase my students engaging in their school day using my resources and I also post about other resources (such as professional learning books) that can help other educators and parents learn more about bilingual education and second language acquisition. Laura thanks for giving us the time for this interview and for sharing your experience in teaching in a dual language classroom. We are sure that many of your comments will help parents committed to raising bilingual children!
This interview was first posted on July 24th, 2018 @ 5:53 pm